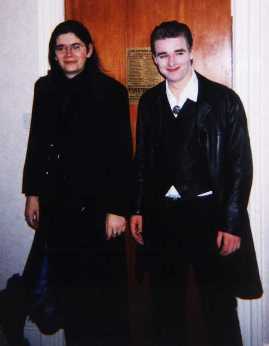 Pen - Ax
Door Shot

Well I'm calling it the Door Shot, but I think it could also be called "The Blokes Refuse to do Aeroplanes". Well, it's the same door, the same night, and after the previous photo was taken one of the girls decided that the blokes should pose for a Door-Aeroplane Shot. As you can see, we had more sense and refused! Proving once again that the male is more sensible than the female!!

Mind you, saying that, Ax is wearing a waistcoat obviously several sizes too small for him! Which isn't showing much intelligence. So maybe it should be that the male is just more boring than the female.

And What's with the talc??...