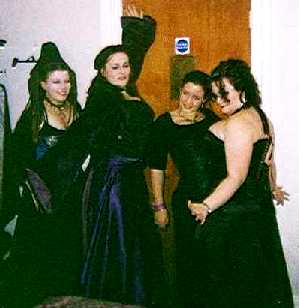 Sian - Sal - Jamie - Laura

This year between them the girls in the photo had 3 rooms. And yet they still didn't have enough room to keep all their stuff neat. And with three bathrooms, three mirrors, etc. You would think it'd take a third less time to get ready? Well, apparently, the more room you give them, the longer it takes them to get ready. Mind you, saying that they still all fought over the one mirror. Maybe someone should have pointed out they had spares??

Nobody told Sally that they were not doing the annual aeroplane shot this year. And the Gods alone know what kind of pose the two on the right are going for?